Locations >> Marion County, Indiana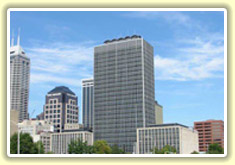 Indianapolis-Marion County,
Indiana City-County Building
We have two offices in Marion County, one in the Barrister Building at 155 E. Market across from the City-County Building, and one inside the City-County Building adjacent to the Marion County Recorder's Office.
Marion County recordings:
Fax Mobile
155 E. Market St.
Suite 810
Indianapolis, IN 46204
Fax Mobile is not able to obtain copies of state tax warrants in Marion County. State tax warrants are only available by print out at the County Clerk's office.
We are also not able to obtain copies of Small Claims Court cause files, except in Center Township (49K01).
List of helpful Marion County phone numbers:
State Tax Warrants
(317) 233-4018


Sewer Liens
(317) 327-3080


Decatur Township Small Claims Court (49K02)
3750 S. Foltz St. [map]
(317) 241-2854


Lawrence Township Small Claims Court (49K03)
4455 McCoy St. [map]
(317) 545-2369


Perry Township Small Claims Court (49K04)
4925 S. Shelby St., Suite 100 [map]
(317) 786-9242


Pike Township Small Claims Court (49K05)
5665 Lafayette Rd., Suite B [map]
(317) 293-1842


Warren Township Small Claims Court (49K06)
501 N. Post Rd. [map]
(317) 897-2061


Washington Township Small Claims Court (49K07)
2184 E. 54th St. [map]
(317) 251-2148


Wayne Township Small Claims Court (49K08)
5401 W. Washington St. [map]
(317) 241-9573


Franklin Township Small Claims Court (49K09)
4351 Independence Square [map]
(317) 784-1751

Fax Mobile Services: